Downloading the ICASSP 2015 mobile app is easy!
Simply:
– Scan the QR Code (all device types),
– Search the app store for ICASSP 2015 (Android & iOS),
– Or type the following URL into your mobile device's browser: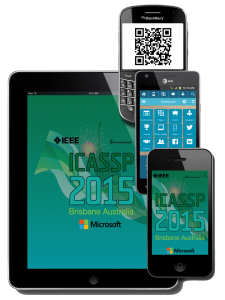 Online registration closing soon
Online registration will close on Thursday, 9th April.  If you miss out on online registration, you can still register onsite at the Conference, starting from 12.30pm on Sunday, 19th April.
ICASSP 2015 Best Student Paper Award candidates announced
Click here to view the list of candidates.
Tutorials selling fast
Tutorials seats are selling fast, with some already fully booked. Click here to view the list of tutorials, abstracts and presenter biographies. Register today to secure your spot.
School of ICASSP takes shape
What is School of ICASSP?  It's a new initiative for 2015 that you won't want to miss.  See further details here.
Registration now open
Registration is now open, please click here for all details and to complete the online form.
Starkey Signal Processing Award announced
For eligibility requirements and how to apply, please click here.
Want to receive email updates on the Conference?
Complete the expression of interest form on the bottom left of this page to receive the ICASSP 2015 eBlasts.
Interested in becoming a Patron or Exhibitor at ICASSP 2015?
Please click here to view the prospectus or contact us for further information.